Luca Comella is an award-winning stylist known for his expertise and unique approach to styling. His notable achievements are a journey towards his dream: a salon with a view by the sea.
The journey starts in his family-owned barbershop in Palermo, Sicily, where he learned his love for hairstyling. Looking to hone his talents and skills, he moved to the United Kingdom where he became one of the lead assets of Toni & Guy. Soon, they sent him to Dubai to manage their first salon in the Middle East.
Inspired by its energy and potential, Luca stayed in Dubai. His luxurious and modern approach, along with his perfect harmony of technical expertise, artistry, and heart have made him one of the most sought after stylists in the region. If not leading one of Dubai's top salons, he is styling for luxury designer catwalk shows and A-list celebrities. He has Gucci, Tom Ford, Louis Vuitton, Dior, Queen Rania of Jordan, Eva Longoria, Anna Dello Russo, Fabio Cannavaro, Haifa Wehbe, Catherine Deneuve, and Gerard Butler under his belt.
Today, on his journey so far, you will find him elevating the salon experience, sharing his passion with his team, and collaborating with his clients; overlooking the shimmering turquoise waters of Jumeirah Bay. Luca is thrilled to welcome you to SFēRA, the embodiment of his values, expertise, and his dream realized: an exclusive salon with a view of the sea.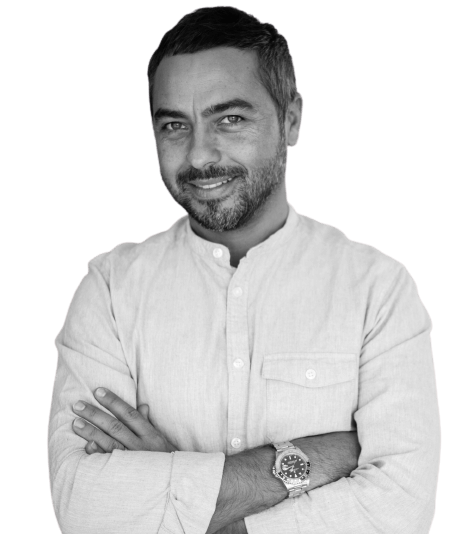 A FEW WORDS

ABOUT US

AND OUR WORK
OUR VALUES
Our brand values honesty and transparency, creating a tailored experience where our clients feel comfortable and relaxed to try new things, to engage in a collaborative process where the foundation of trust empowers us to embrace change.
A TEAM TO BELIEVE IN
Our team has vision, passion and a lot of charm, fearless in their pursuit of mastery and skill. Our international stylists and colour technicians are some of the top creative talents in the world and have been hand selected for their mix of individual style and exceptional ability.
OUR MISSION
We believe in a luxurious, modern approach to styling, our mission is to listen, support and inspire.
We know that education and quality hair care products are the tools needed to inspire and equip our clients to succeed until their next visit.
WHAT MAKES US UNIQUE?
We are led by Luca Comella, an industry veteran with experience spanning more than two decades and three countries, styling A-List celebrities and catwalks of designer labels, his attention to detail and experience ensures our high standards.
OUR VOICE
We are confident, strong and knowledgeable in our method and skill. We strive for perfection and quality results.
CLIENTELE
Our clients and customers are from many different cultures and countries. We pride ourselves on our ability to connect with everyone.
READ SOME

REVIEWS

OF OUR WORK
I've know Luca for over 12 years and have only trusted him with my hair. He has magic fingers, always understands what I'm asking for and has never - not once - disappointed. His charm and passion is contagious with the team around him that always wear smiles! The salon is top notch and the view just adds to the luxury that you want to feel and how you always feel after your time with Luca - with SFēRA!
---
NIKKI FARRUGIA
I really love SFēRA. I love to change my hairstyle and I trust them 100%. From long to short and from blond to purple. This guys are really professionals. Everybody there are smiley and happy. It's always a pleasure to go there.
---
MARY KLO
The team is very friendly and always welcoming. Luca, the founder, and the rest of the team are also absolutely attentive and make sure that you leave the salon happy! While it is very difficult to find a good salon in Dubai, SFēRA compares to no other. Highly recommended!
---
SALI TAKASE
My hair was a mess when I visited SFēRA and Luca worked his magic! He took his time and directly understood what bothered me from a previous disastrous haircut. He fixed it and I couldn't be happier! Highly recommended!
---
SALMA ARIGIE
BOOK YOUR APPOINTMENT

NOW